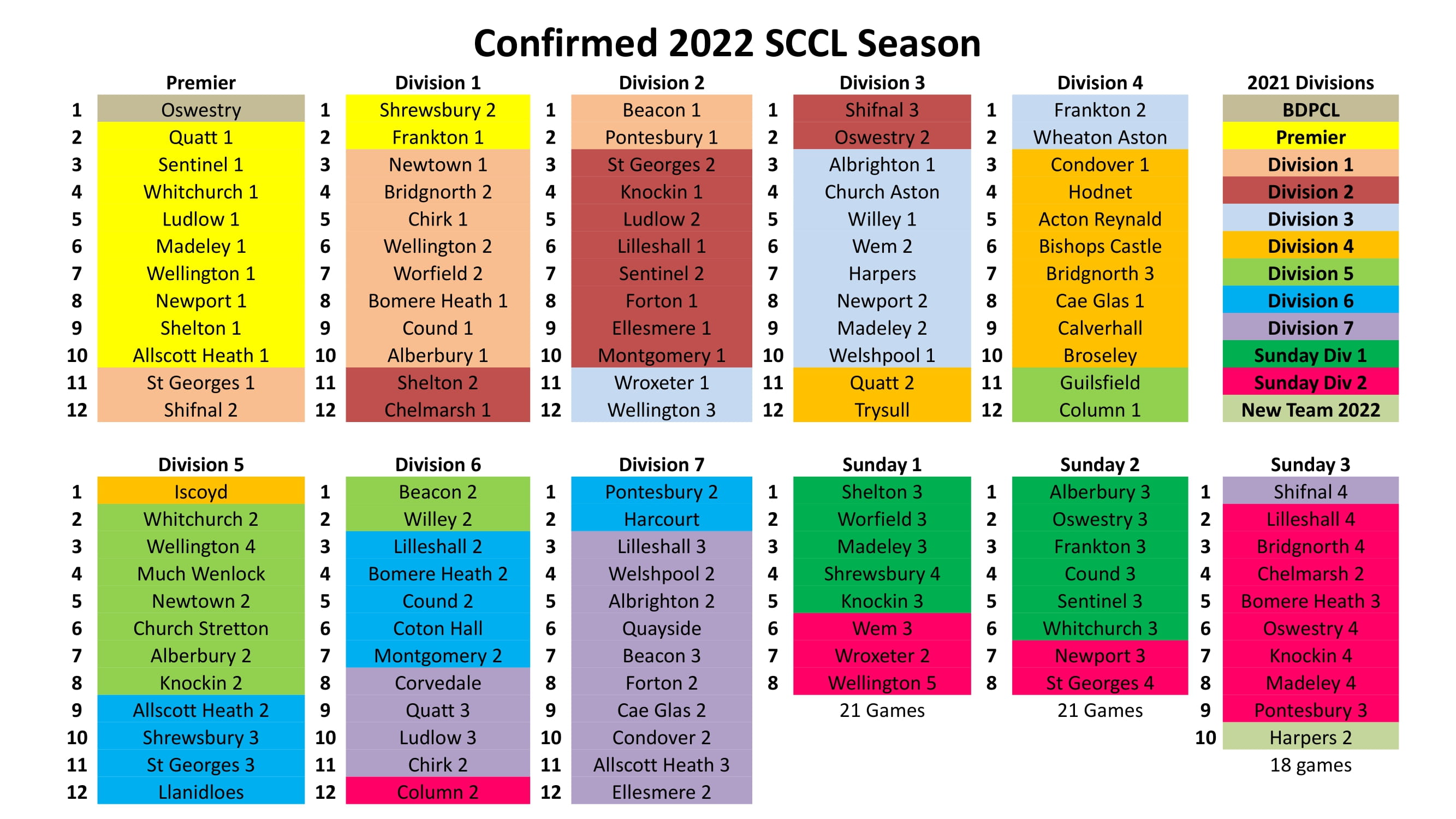 The make-up of the 2022 season's SCCL divisions has now been confirmed, following the full committee's ratification of the Membership & Structure sub-committee's decisions. 
Market Drayton have withdrawn from the league.
Following an inspection of their ground, Chelmarsh have been promoted to Division One. 
Column 2 have joined the Saturday section, while Shifnal 4 have switched to Sundays, where Harpers 2 are a new entrant.
This all left 96 teams on Saturdays, and 26 teams on Sundays.
Convenience of numbers has helped the reversion to a straight 12 teams per Saturday division, thus ending irregular numbers in the bottom three divisions. 
The bottom two sides in all divisions have been relegated, with the exception in Div Four where 2nd-bottom Drayton's withdrawal means just one down.
The top two have been promoted from Divs Two, Three, Four & Five. To meet the adjustment of numbers in the lowest divisions, the top four have been promoted from Divs Six & Seven. The one exception is that Lilleshall 3 (third in D7) are debarred from going up because their 2s are already in D6.
Additionally, Column 2 were felt worthy of a place in D6 after a successful season in S2.
Amid the usual difficult decisions, top of the list was the contrast between Pontesbury (who had a traumatic season in Div One) and Quatt 2 (who had a hugely-successful campaign in Div Four). However a proposal to promote Quatt 2 to Div Two and relegate Pontesbury (to protect not punish) to Div Three failed. 
The Sunday section has been split into three divisions in order to equate standards, where it was felt that S2 in particular suffered from unequal competition owing to an imbalance in youth v experience.
S1 & S2 will have eight teams apiece, with all sides playing each other three times (thus 21 games). S3 has ten teams, meaning 18 matches where the normal H/A applies.
The Premier Division season starts on April 16, again a week earlier than the other divisions owing to the Birmingham League play-offs starting on Sept 17. The remaining Saturday divisions all start on April 23 and finish on Sept 17.
Sundays: all start on May 1 and S1 & S2 end on Sept 18. S3, with four less games, end on Sept 11 and have blank dates for both BH Sundays.
Two changes of venues for 2022: Church Aston will be sharing Broseley's ground, while Shrewsbury 3 have taken the vacancy to share with Wroxeter. Column 2 will alternate with the club 1sts at Nalgo in the normal two-team club system.